Hetty Feather (Rose, Kingston)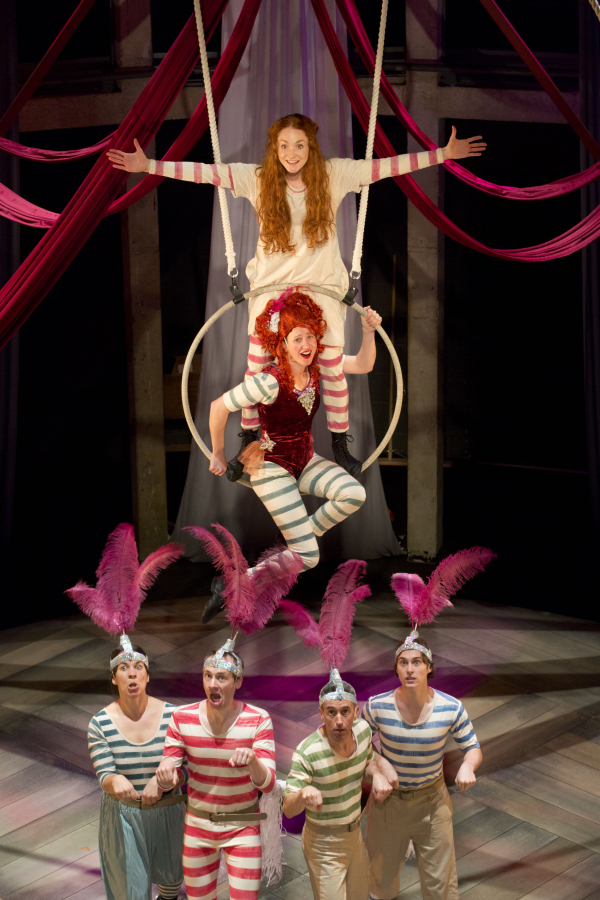 Jacqueline Wilson's success has largely been built on stories about contemporary girls facing dysfunctional families, abandonment and all sorts of angst. Hetty Feather is no different, but her life begins in 1876, when her unmarried mother leaves her to the bleak mercies of London's Foundling Hospital. It's a step-up from the Workhouse, and as a foundling, at least tiny, flame-haired Hetty has a chance of being fed, clothed and educated – to servant standard, at any rate.
Hetty narrates her own life story from the cradle onwards in this sparkling stage adaptation by Emma Reeves, whose Wilson-related credits also include TV's Tracy Beaker.
We gallop through Hetty's adventures at a cracking pace, but director Sally Cookson allows for slower, graceful scenes which add so much richness to the production.
These changes of pace are made easier by Katie Sykes' inspired circus-ring set, which gives the performers access to all the space above ground, as well as on it, and they make full use of this freedom.
Early on, Phoebe Thomas as Hetty, and Matt Costain as her foster-brother Jem, climb alarmingly high using ropes and silks to make an imaginary squirrel's nest in a tree. It's a key motif in the book, and this scene captures all the bliss of Hetty's short-lived happiness as she rocks gently in her airy hideaway.
Later, the trick-riding scene where Nikki Warwick's Madame Adeline takes Hetty on horseback and gallops precariously around the circus ring is achieved with brilliantly choreographed work on a single hoop. It's suspended high above the other members of the cast, who clearly relish the chance to flick their tails and show off their horsey moves.
The aerial dance between Hetty's parents which closes the show is also a stunning sequence combining tenderness and circus daring.
You couldn't ask for a better Hetty, a kinder Ida (Sarah Goddard) or a more plaintive Gideon than Paul Mundell. Perhaps Matt Costain could be more fearsome as the Foundling Hospital's dreaded Matron Bottomley, without necessarily going for the full Trunchbull effect. After all, this is a woman who's prepared to tell a little girl that she's a child of Satan heading for H.E.L.L.
The live music is atmospheric and tender, with clever sound effects and perfect harmonies from the gifted musicians and composer Benji Bower.
At two and a half hours, Hetty Feather is long for its intended young audience, but it's difficult to see where cuts could be made without missing vital chunks of the complex story.
This feels like a warm-hearted, collaborative production and it must be satisfying for Jacqueline Wilson, who lives nearby, to see her work brought to the stage with such verve and imagination by her local theatre.
Hetty Feather continues at the Rose, Kingston until 19 April before touring the UK