I Can't Sing! (London Palladium)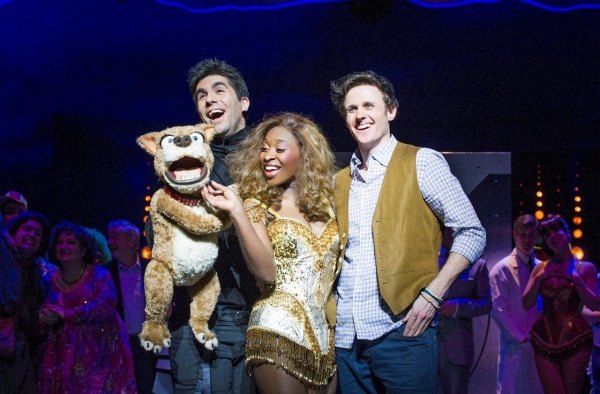 The last West End poster with a big red mouth and pearly white teeth on it was for Beckett's Not I. And now here comes the X Factor show with a similar design motif, speared with an exclamation mark that implies the opposite of keeping mum.
The mouth comes to pulsating life when Cynthia Erivo as Chenice, an attractive no-hoper who lives with her bed-bound grandpa in a caravan under a flyover – the first West End musical flyover since Whistle Down the Wind – bursts into the title song in her audition. She hadn't seen, or heard of, the X Factor as grandpa's iron lung was plugged into the one socket they possess. Their life was unsullied by Simon.
But an environmentally engaged plumber Max (Alan Morrissey), who writes the sort of eco-friendly song Simon Cowell would set fire to, takes her along to the show, where the populace is at first greeted by Liam O'Deary (Simon Bailey) – "I love hugging people I don't know" – and their love quest runs parallel to a backstage/onstage vaudeville of bizarre behaviour, character assassination, Wagnerian choruses and redemption.
Not for Simon Cowell, though: by this time Nigel Harman, suavely lookalike in suit and shades (and baby accessory in the back of the motor), has acquired extra white teeth and, having had his way with cast and fellow judges – Victoria Elliott as a slatternly Jordy and Ashley Knight as a lobotomised leprechaun of a Louis – is reclaimed as an alien from Planet X by a spectacular flying saucer.
The last flying saucer in British musicals was in Salad Days – and that one came with a teacup. It's a measure of the surprise element in Harry Hill's book and Steve Brown's music and lyrics (Brown, who collaborates regularly with Hill, as well as with Steve Coogan, wrote the splendid Spend, Spend, Spend) that the comparison springs to mind – along with drug-crazed versions of The Billy Cotton Band Show and Morecambe and Wise specials.
For director Sean Foley – who's plundered similar territory in The Play What I Wrote – has supervised the sort of bona fide popular variety entertainment that The X Factor and other amateur talent shows have shamefully displaced on television.
And Chenice – played and sung by Erivo with talent to burn and serious personality overflow – with her pigtails, sweet old failing grandpa (Joe Speare) and Toto in the shape of a Churchill-like bulldog (expertly manipulated by Simon Lipkin; yes, there's a vent and puppet act thrown in, too), is a modern day Dorothy.
Max is her friendly Tin Man, Simon the mysterious, self-promoting Wizard (his big number "Fabulous" says it all) and Billy Carter as Gerrard Smalls the Wicked Witch of the television studio, warning fans that, if they look at Simon directly, they might become pregnant; he's that virile, it almost chafes Smalls to say so.
Even becoming separated from his own legs – twice – cannot halt Simon's progress. His inexplicable aura sucks in a couple of Jedwood-haired altar boys; Katy Secombe's hilarious over-sized check-out girl who works for "Tesda" – "I'm All Woman," she sings, reassuringly; and a rapping hunchback, Trevor Modo (Charlie Baker), who is ejected by a security guard and abused by Simon ("We're looking for a recording artist, not a singing camel") before swinging on his bell rope and exiting into the scenery.
Es Devlin's brilliant designs often set technical challenges – hence jokes about cancelled previews – but they are always worth the trouble. The land of aspirant losers becomes a second act Valhalla of curvilinear neon-lit dressing rooms and cabaret walk-downs, glittering ensemble numbers, pink feathers and even a Message from God: "He Loves This Show".