Drunk (Bridewell Theatre)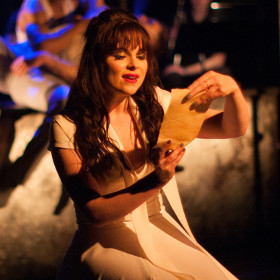 London has been paralysed for two days by the strike on the Tube but it was worth struggling down to the City to catch this exhilarating dance show which has absolutely no purpose in the world other than to display the talents of an octet of dancers and give the audience eighty-five minutes of unalloyed pleasure.
The show, which marks the debut of a new dance outfit, The McOnie Company, comes from the Curve in Leicester, directed and choreographed by Drew McOnie, with music and lyrics by Grant Olding and wonderful lighting by Richard Howell.
There is also a five-piece band (under Tom Kelly's musical direction at keyboards) behind the bar, which plays host to a little girl lost, Ice (Gemma Sutton), who tries a succession of cocktails served up by dancers Scotch, Cider, Absinthe, and so on.
Several of the dancers come with experience of working with Matthew Bourne and most have West End credits in shows from Grease and Wicked to Dirty Dancing and Swan Lake, and they all have great energy, style and, most noticeably, an elegant finish and line in their displays, whether the dance is a group rumble, an explicit tango or a fizzing ensemble of miraculously coordinated limbs, heads and torsos.
Ice melts, of course, and she's rescued from the cold by the warmth of the room and the heat generated in what turns out to be a very happy hour indeed. The songs are another success for Grant Olding, who wrote the score for One Man, Two Guvnors, and they are deceptively skilful in allowing for full articulation at hurtling speed; there's no hint of painful effort or shortage of breath.
Various drinks are suggested to characterise the dancers, such as "shots" sung down by the lads out on a stag party, or the vodka indulged in by the ageing Russian actress living on past glory. But the "programme" is less important than the sustained athletic dynamism of the overall presentation. And there's simply no alternative, in such circumstances, but to sit back and enjoy.