The Rape of Lucretia (Glyndebourne)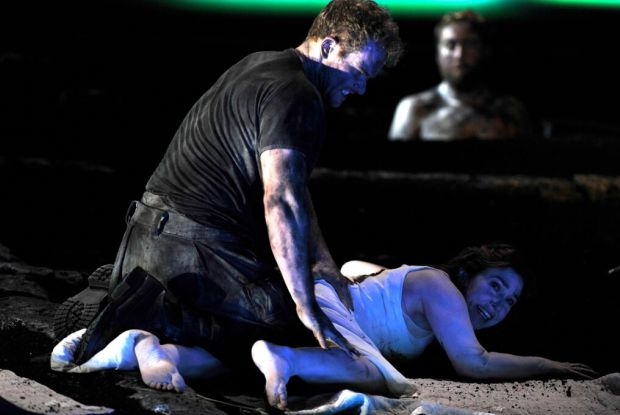 There are worse places for a lock-in than the Sussex opera factory where, every spring and summer, a select band of musical POWs lives to work and eat and work again. No wonder they call it Glynditz. Thanks to the concentrated rehearsing that gets done in this exquisite hothouse, though, most of
Glyndebourne
's operas tend to turn out rather well.
The Rape of Lucretia is a case in point. Britten's follow-up to Peter Grimes was first seen at this very venue in 1946, while Fiona Shaw's Glyndebourne Tour account was voted the best new production of 2013 in the WhatsOnStage Opera Poll. That staging now transfers to the main festival where its dramatic conviction and musical excellence are as overwhelming as they were first time round.
The Etruscan prince Tarquinius violates the wife of General Collatinus, who subsequently kills herself. As Roman history goes that's a slender tale but it's weighed down with all sorts of questions about human behaviour. How virtuous was Lucretia before the rape? Was anything about it consensual? Is her shame down to the attack or a terror that she was in some way complicit?
It's a sadness that Ronald Duncan's libretto demands so much attention, because the score is one of Britten's most rapturous creations yet for the spectator it's shackled by the need to concentrate on dense doggerel. Duncan's text doesn't so much oil the wheels as festoon them with verbal bunting. It weighs the opera down and threatens to drag it off the road.
'Supercharged company'
"Virility" is paired with "fertility" in a rhyme that borders on tastelessness in the context of a rape. Shaw deals with this by making the Male and Female Chorus an ambiguous pair of archaeologists at a modern-day dig who observe the action in their mind's eye across the tremendous bridge of years and are somehow drawn into it. They appear simultaneously aroused and repelled by the pervasive sexuality, and once the emotions of the past start to course through their present-day veins the production becomes powerfully gripping.
As in 2013, the singers are close to ideal and diction throughout the supercharged company is as exemplary as their singing and acting. Duncan Rock is Tarquinius to the life: dangerous, sexual, plausible and regal, and Christine Rice brings superb definition and subtlety to the vacillations of Lucretia's tortured mind. Catherine Wyn-Rogers returns as her nurse, Bianca, with Louise Alder a soaring maid, Lucia, while the wonderful bass Matthew Rose portrays Collatinus as the most dignified of cuckolds.
Allan Clayton is again the Male Chorus. What an extraordinary singer he is. I cannot think of a more intelligent British tenor, nor one capable of such sheer vocal beauty, to have emerged in the last couple of generations. As the Female Chorus Kate Royal is a little more restrained, internalising her anguish in places where her splendid predecessor Kate Valentine projected it.
A small contingent from the London Philharmonic Orchestra produces some ravishing aural vignettes under Leo Hussain's assured direction, and the entire evening bears the ring of theatrical truth. Even the opera's oleaginous Christian envoi is rendered palatable by Shaw through designer Michael Levine's simple and marvellously restrained final image. Don't miss this.
N.B. The Rape of Lucretia will be screened live in cinemas on Sunday 9 August