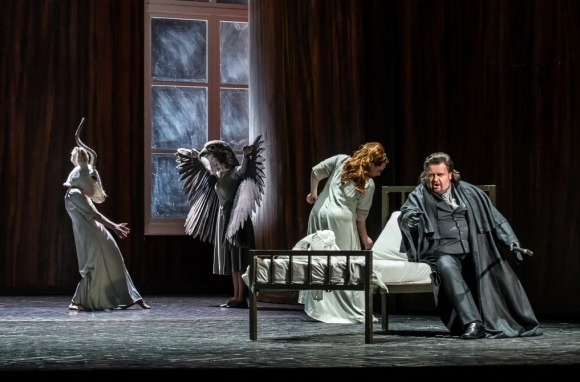 With 101 reviews under our belt in 2014, WhatsOnStage Opera has covered most of what's good, bad and downright ugly in UK lyric theatre. My own outright winner?
Die Frau ohne Schatten
at the
Royal Opera House
in March. Richard Strauss's elusive fantasy found dream interpreters in German director
Claus Guth
, whose poetic sensibility was at one with the score, and in
Semyon Bychkov
who showed that the ROH Orchestra is a Strauss outfit of the first rank. I don't mind admitting that I wept in each act.
There was a fair bit more Strauss around in his 150th birthday year, although none of his less familiar works got a look-in. Richard Jones's new production of Der Rosenkavalier for Glyndebourne proved divisive for a number of reasons; for me, though, it was love at first sight, the sight in question being an opening image that was musically, erotically and – that word again – poetically magical. Layering his production with bold ideas from first to last, Jones and conductor Robin Ticciati (in his first season as music director at the Sussex house) created an unorthodox yet passionate view of an ultra-romantic masterpiece. And as if that wasn't enough, a star was born in young Irish mezzo Tara Erraught who sang a buoyant, boyish Octavian. There were certainly no complaints from me about her suitability for the role.
Glyndebourne's second cracker was pure theatre: the vastly entertaining production by Frederic Wake-Walker of La finta giardiniera , a slice of early Mozart that showcased two superb young casts, one at the summer festival and another on the autumn tour. Watching this colourful comedy you'd never believe how dull early Mozart can be in the wrong hands. It was full of invention and brimmed with snappy yet thoughtful coups de théâtre.
It wasn't all gold for Wake-Walker, though; he saddled himself with a dud when he chose HK Gruber's tiresome Gloria: A Pigtale for his own Maghogany Opera Group. A ropier new work still was Luca Francesconi's pretentious "post-apocalyptic opera" Quartett in the Linbury Studio at the ROH. Described by its director John Fulljames as immersive and visceral, it wasn't anything of the kind; just a footling waste of several considerable talents including his own.
No one I know directs from the heart with greater integrity
It's telling that so many of the year's great opera nights were concerts rather than staged events. The BBC Proms did well by Strauss, with transcendent performances of Salome and Elektra given on consecutive evenings. while a star-studded account of Handel's Alcina lit up the Barbican and Donizetti's rarely-heard Les Martyrs (his much-altered French version of Poliuto) did the same at the Royal Festival Hall – where, for the record, it was a staggering high E natural that Michael Spyres took in his stride on a night of stratospheric singing.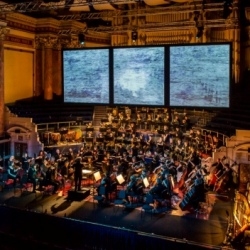 My own top concert was the massive, magnificent performance of Götterdämmerung with which Opera North completed Richard Farnes's four-year traversal of Wagner's Ring cycle. Only semi-staged it may have been, but enhanced by Peter Mumford's impressionistic video work and helped in no small measure by the gothic surroundings of Leeds Town Hall, it was full-on theatre.
Not everyone seems to have enjoyed David Alden's production of Verdi's Otello at ENO as much as I did. If Alden is a Marmite director it's because he stages what he hears and, just as importantly, what he feels about a score rather than what the stage directions might indicate. The downside of this is that when our own aesthetic responses diverge from his there's a chance we'll dislike his concept – as I did his Billy Budd a couple of years back. But no one I know directs from the heart with greater integrity.
In 2014 ENO was able to field Stuart Skelton in both Otello and another Alden staging, Peter Grimes . One of the world's leading Heldentenors for several years now, the Aussie still can't get arrested at Covent Garden; instead our premier house, which has some bizarre hiring policies on both stage and podium, has stayed loyal to its old faithfuls, although if rumours are true that sin of omission is soon to be rectified in Skelton's case.
There was, happily, nothing second-rate about Stephen Gould's mighty Tristan. If the American tenor was eclipsed by Nina Stemme's phenomenal Isolde in The Royal Opera's end-of-year triumph, Tristan und Isolde – well, who wouldn't be? This remounting of Christof Loy's psychologically acute staging is by a street my revival of the year. You won't find it in the current WhatsOnStage Opera Poll, which covers December to November, but it's a shoo-in for the shortlist next time round.
Heroes and villains in 2014
To mark the festive season here are ten random 'awards' of my own – some frivolous, others heartfelt.
Pocket opera of the year: Werther
For the second year running, WhatsOnStage Opera Poll-topping director Aylin Bozok stole the Arcola Theatre's 'Grimeborn' summer festival with a pitch-perfect production that showed exactly how to pull off an opera in miniature. How will she fare on a larger canvas? We'll find out next summer when she takes on Lakmé for Opera Holland Park.
Pleasant surprise of the year: La bohème
While Raymond Gubbay's arena shows at the Royal Albert Hall regularly deliver better experiences that you might anticipate, this year's revival of Puccini's tearjerker in Francesca Zambello's railway-terminus production was a minor triumph. Performed in Italian for the first time, and strongly sung, it took wing.
Disappointment of the year: The Immortal Hour
The case for Rutland Boughton's beautiful sub-Wagnerian opera was set back ten years by a dire shoestring effort at the Finborough Theatre. If any producers out there saw it, I implore them to give the Hyperion recording a whirl instead.
Chair-thrower of the year
Competition in this congested field is always intense (and an indictment of too many directors' paucity of invention), but Stuart Skelton's Otello moment has to cede first place to Carmen Giannattasio's Virgin Queen tantrum in Maria Stuarda at the ROH.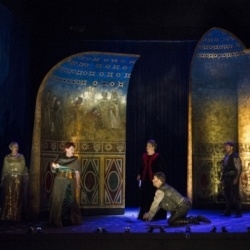 Opticians' best friend of the year: James Conway
The artistic director of English Touring Opera has a long-standing penchant for dim lighting that must seriously challenge poorly-sighted spectators. My own eyesight is pretty good, thankfully, but even I struggled with his barely-discernible Ottone.
One-star review of the year:
So much has to go wrong for an opera to fail on every single level, but Tim Benjamin's Madame X sailed through the qualifiers and earned my first single-starred opera review in over three years. Not exactly a feather in the Arcola's Grimeborn cap.
It was a good year for…
Garsington Opera, which scored a notable critical success with productions of Offenbach's Vert Vert, Janáček's The Cunning Little Vixen and Beethoven's Fidelio, and also announced a partnership with the Philharmonia Orchestra on one production each year from 2017 onwards. As if that wasn't enough, the modest independent festival with ideas above its station unveiled a 2015 programme that includes a collaboration with the RSC, Britten's Death in Venice under the baton of its original interpreter, Steuart Bedford, and – joy of joys – a rare outing for Strauss's Intermezzo.
It was a bad year for…
The Royal Opera House's resident booers, who made fools of themselves once too often when they attacked Moshe Leiser & Patrice Caurier, directors of Maria Stuarda, having cheered Joyce DiDonato's Maria to the echo only seconds before. Their beloved diva tellingly tweeted: "People need to understand that great performances are aided by great direction".
Curtain call of the year:
Vittorio Grigolo, a tenor who never knowingly undersells himself, practically gobbled up the entire audience, applause and all, at the end of the Royal Opera's L'elisir d'amore (in which he was, admittedly, very good).
King of the World:
For me, this year at least, it's Claus Guth. The director whose Mozart (on DVD) is near-legendary finally brought his special brand of magic to the UK with the exquisite Die Frau ohne Schatten. Which is where we came in.