Dick Whittington: The Rock'n'Roll Panto (City Varieties Music Hall)
Ten minutes before the start of a Tuesday morning schools performance at the City Varieties, cast members were warming up the audience and giving plenty of shouting practice. Clearly we were in for a couple of hours of intense audience participation! Not so, in fact: though the audience response was loud and enthusiastic, actual participation in Dick Whittington: The Rock'n'Roll Panto is very limited. I guess singing along with Otis Redding or Little Richard songs is not on for six-year-olds!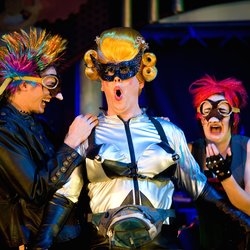 At curtain rise Fairy Bow Bells (the excellent Hollie Cassar, also one of a trio of rather sweet punk rats!) introduces the plot in rhyming couplets: the rats are taking over London, King Rat has his eye on becoming Lord Mayor and only young Dick Whittington from Leeds can save the day. So far, so traditional, but, when the half-stage curtain rises on Mansion House Square it reveals the company (in 18th century-ish garb) lined up as a solid rock'n'roll band belting out "Tutti Frutti"!
Throughout the songs are the highlight of the show, imaginatively chosen and, for the most part, skilfully and vibrantly performed. It's an inspiration when Alice Fitzwarren, having lost Dick to a trumped up charge of trying to steal a bag of gold, launches into the Freda Payne classic, with one tiny change: "All that's left is a bag of gold." Moving slightly away from rock'n'roll, Fairy Bow Bells of course chooses Pete Seeger to tell Whittington to "turn, turn, turn," and "Walking on Sunshine" is a suitably rousing finale, with Alice and Dick supported by the remaining eight in the cast, including three saxes, trumpet and flute!
Peter Rowe's script is in one way surprisingly traditional, with the proportion in rhyming couplets far higher than in either of the other two pantomimes I've seen so far this year. He also has a nice line in over-the-top alliteration and integrates the songs seamlessly. However, there are some uneasy nods to the grown-ups in rather clumsy contemporary political comment and suggestive gags which appeared to delight the tinies! Under Paul Hart's direction the show is brisk and well-drilled, though not particularly magical.
The cast work well as an ensemble and excel as musicians, but the balance of the show means that pantomime buffoons such as Sarah the Cook (Simon Nock) and Billy Bungalow (Kenny Davies) don't have time to establish an easy rapport with the children, though both have their moments, notably Billy's take on "Hard to Handle". Liz Singleton (Alice) takes the honours vocally and – at least in song – has an effective partnership with Dick (Tom Milner), while David Heywood proves a real rock'n'roll Rat.
Dick Whittington: The Rock'n'Roll Panto continues at City Varieties Music Hall Leeds until 11 January 2015.