The Little Match Girl (Ipswich)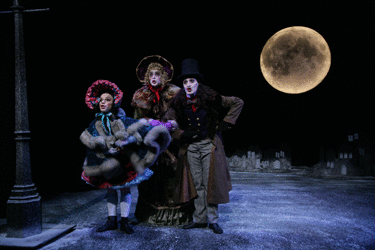 We are in a small Italian town on Christmas Eve in the mid 19th century. The well-to-do buy gifts and delicacies for the table. An orphaned girl needs to sell her home-made matches to acquire the bare necessities of food and shelter. If she succeeds, she might (just) survive. If she fails, she will join her grandmother in the cemetery.
The Little Match Girl is not the most cheerful of Hans Christian Andersen's stories. Arthur Pita's choreography – allied to some clever settings by Yann Seabra and a score by Frank Moon which uses pre-recorded and live sound to fine effect – pulls no social punches but adds a fantasy ending to send the audience home thoroughly delighted with the experience.
You really don't want to tangle with the selfish Donnarumma family, especially spoiled little princess Angelica (Valentina Golfieri). Not that her parents (Angelo Smimmo as Clementina and Kip Johnson as Fulvio) are much of an improvement. By the way, what dialogue there is as well as the lyrics, finely put over by Smimmo, are in Italian.
The official lamp-lighter and a passer-by are much more sympathetic people; Pita has devised a nice pas de deux for Corey Annand's Match Girl and Johnson which gives a whole new meaning to the term "pole dance". But a bullying match boy (Golfieri) and his older protector (Johnson again) leave our young heroine coin-less, shoe-less and with damaged stock.
In desperation, she goes to her grandmother's tomb. Nonna Luna (Smimmo) emerges and takes her granddaughter from this world to the magical one of the moon. Here there's much fun with an astronaut (Johnson) – who's suitably bemused at discovering this form of life – and it ends with the night sky being lit from the match girl's flame.
The dancing is classically based, with some elegant steps, turns and attitudes which are always in keeping with the period in which the story is set. There are enough special effects (the miniature space shuttle proved particularly popular) to keep the story lively. Good as the dancing is, one never feels that it intrudes on the narrative; rather it flows from it,as a story ballet should do.
The Little Match Girl is at the Jerwood DanceHouse, Ipswich until 24 December and at the Palace Theatre, Watford on 18 January.