Justina Gringyte – from Carmen to Carmen
Lithuanian mezzo-soprano Justina Gringyte is having an exceptional year. The 2015 International Opera Awards Young Singer of the Year scored a personal triumph in English National Opera's Carmen and is preparing to reprise the role (opposite tenor Noah Stewart) in Scottish Opera's latest revival of Patrice Caurier & Moshe Leiser's 1999 staging.
This is your second UK Carmen this year. How does Caurier & Leiser's production compare with Calixto Bieito's account for ENO?
It is radically different! They're two extremes. Calixto's is very contemporary with some edgy decisions on character breakdowns, whereas this one is set in 1825. So it's as far the other way as you can go. Yet there are some similarities: there's not much set – in Bieito's we had a few cars, here we have a few tables – and there are no big scenes of flamenco dancing. So in both productions you have to get the character from within yourself.
Your stage presence is impressive. Did you train as an actress as well as a singer?
Yes. When I started my degree in Lithuania, for the first two years we had eight or nine hours per week just acting. We trained as straight theatre actors at the Academy of Music and Theatre.
Carmen is such an exotic, wilful character. Is she anything like you?
That's a really tricky question because it depends how we look at her. I don't want to say yes but there are qualities in every woman that they would recognise in Carmen.
Do you see 21st century values in her?
The conflict and the relationships are very recognisable to us. If we were talking about kings and aristocrats that probably wouldn't be the case, but Carmen and Don José are very much of the people. We were joking during production: in the middle of some intensive analysing in a room full of males, I said "oh, it's woman's thing. Only a woman can understand that". Because Carmen reacts to things in a real woman's way. I think men see more vulgarity in her than a woman sees. I hope this production will allow me to show that she's sexual but she isn't vulgar.
Has it been hard to jump so soon from ENO's English translation back to the original French?
To start with, Carmen was one of my core roles. At a summer festival in west Wales I sang it in French in a small scale production, but then I had to learn in again in English, which was difficult because I had the French in my head. And now I've had to relearn the French! But having done it before I've found it much easier. It would have been much harder coming after the English if it had been the first time.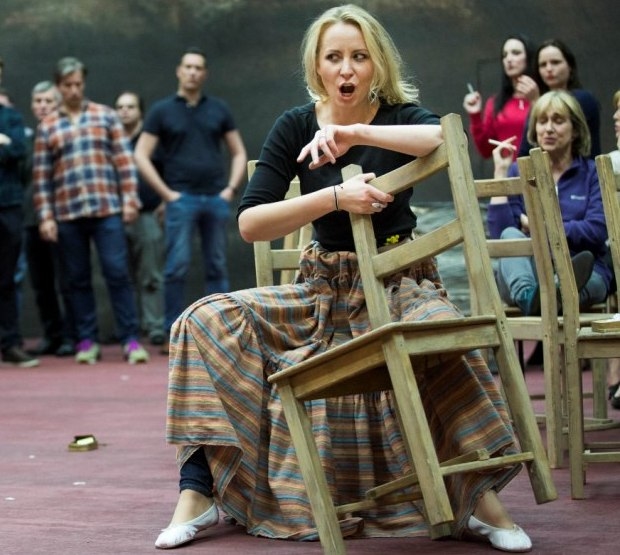 As a singer, how do you feel about ENO's English language policy? Does it mean you have to learn the same role more than once?
There are advantages and disadvantages. As I've lived in the UK for six years I do think in English, so to do a role in English has helped from an understanding point of view. But from the singing point of view it's a different game. I find it very difficult. Roles I've sung that were written in English, like Britten's Phaedra or Purcell's Dido, were challenging but they felt natural because the words are set the way the composer wanted.
So the original text is part of the music?
Exactly! It dictates the phrasing and the accents and the colour. The colour! When you translate Verdi or Bizet into English you can't possibly reproduce the colour the composer intended it to have.
Carmen is seen as one of the summits for any mezzo. What are your own dream roles?
I'm dying to sing Romeo in Bellini's I Capuleti e i Montecchi, and it would be very nice to do Handel's Xerxes and Sesto in Mozart's La clemenza di Tito. I really want to sing some Gluck – Orfeo, Iphigenie – and Berlioz too. I'm preparing Marguerite [in La Damnation de Faust] at the moment. And Charlotte [in Massenet's Werther] is another role I'm looking forward to.
You're the 2015 International Opera Awards Young Singer of the Year. That's as good as it gets – like Best Actress at the Oscars. Has it led to any new opportunities?
I guess that people worldwide suddenly know my name, so more casting agents and colleagues are aware there's a new singer!
Do you get many opportunities to perform in your native Lithuania?
Yes, more and more, which is very exciting. Last year I sang Hansel [in Hansel and Gretel] plus some concerts, and next February I'll be doing Carmen for the National Opera House there. Nowadays my homes are in Lithuania and Moscow.
When will UK audiences see you next?
Next summer I'll be singing Meg Page in Falstaff with Edward Gardner in Birmingham, but other than that I'm mostly trying to explore Europe for the time being.
Your vocal timbre, which I love, is fascinating. It's original and unique to you.
Some people don't like it because it's unusual. The thing is, I work a lot on technique and I'm growing technically, but the actual timbre can't change much because it's what I was born with. Of course, as it matures the musculature will allow me to find more colours in it, but I'm very happy with the voice I've got and I'd never want to change it.
Carmen opens at the Theatre Royal, Glasgow on 7 October and plays in repertoire for six performances before touring to Aberdeen (two performances), Inverness (three performances) and Edinburgh (five performances)