Review: One Life Stand (Summerhall, Edinburgh Fringe)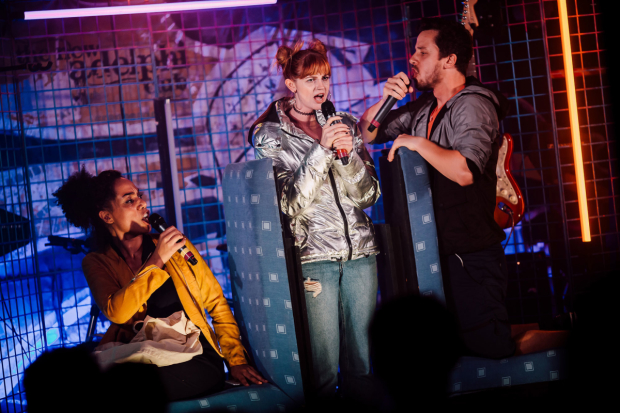 Last year Hull-based company Middle Child had a Fringe hit with their gig-theatre piece All We Ever Wanted Was Everything in Paines Plough's Roundabout space at Summerhall. It was bolshy, sweaty and brilliant.
This year they continue a little in this vein, with Eve Nicol's One Life Stand, a play with songs about one night in Hull's city centre. It's written in a dynamic, playful form-busting way, following a little how young people's lives these days are peppered with notifications, cat memes, instant messaging and Instagram. In this world the phone is key.
It's about three misfits; three fairly unhappy people, Kat, who has finished work and is getting drunk; her boyfriend Kit who is on his Deliveroo bike and texting cute cat pictures, and Momo who is still in school and is hanging about on her own. It's after she leaves her phone on the night bus that the three of their lives begin to intertwine. Kit helps Momo track her phone down, while Kat picks said phone up and heads out on an elicit work one night stand. They are all a bit messed up, all a bit lost and all, essentially doing the same thing: searching for someone.
Nicol's text has a zinging energy to it and occasionally her observations about modern life and its interruptions and worries – about love, sex, internet stakes and money – are beautifully bang on. But it's Paul Smith's tricksy production which doesn't do an awful lot for it. The three actors talk into microphones, each narrating each other's scenes which bleed into one other. The mics aren't handled well and for the first 15 minutes it's actually really hard to get a handle on what's going on and who the characters are. It's so easy for words to get lost. If you're going to talk at the breakneck speed Nicol's text warrants, you have to make sure you're heard.
The songs also feel a little token. Where All We Ever Wanted… was built around what is essentially a rock gig, this is more a play with songs. And the songs don't land, they feel misjudged, wedged in. I won't spoil the ending, but I ultimately couldn't help asking why Kit and Kat were even a couple. But the strong performances – Anna Mitchelson as Momo and Tanya Loretta Dee as Kat are particularly good – do help.
Nicol is clearly a writer with promise, and Middle Child a company doing great things, but although there are some clear, nicely judged moments in One Life Stand, it generally misses the mark.