Edinburgh review: My Eyes Went Dark (Traverse Theatre)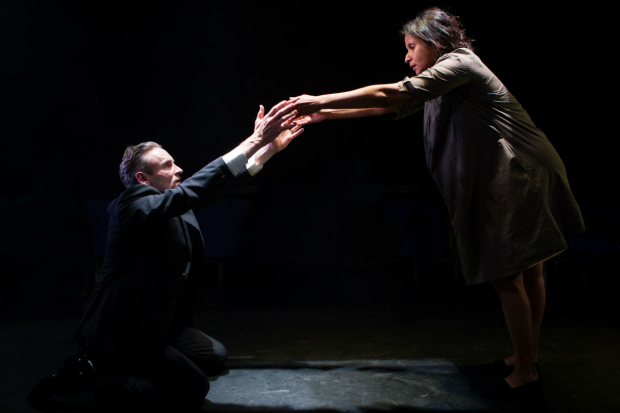 Two planes collide in the sky, and 65,000 feet below, a man catches his daughter's corpse in his arms – lifeless but unmarked. His son and daughter are nowhere to be found. "They were my family," he tells his psychiatrist afterwards. "They were my life."
Played on a bare, black stage, Matthew Wilkinson's stark two-hander stares into the deep void of grief and despair. Russian architect Nikolai Koslov (Cal MacAninch) is a shell of himself; all colour drained out of him – grey hair, grey eyes, grey skin. His family's deaths take over his life: a loss that's all-encompassing. His eyes are empty, except for when he tends to their graves – polishing away at a blank square of light.
The play's thrust is his refusal to accept their fate and Koslov insists that someone, somewhere must be held responsible. He fixates on a Danish air traffic controller, Thomas Olsen, left alone to cut costs, but when the courts acquit him, Koslov takes the law into his own hands. He never even gets an apology from the private firm.
Wilkinson doesn't endorse Koslov's actions, but he recognises the impossibility of any recompense. How can $60,000 possibly replace a wife? Why are his children worth $10,000 apiece less? And what of him? What of his shattered life?
MacAninch is superb. The less he does, the more he transfixes. He breathes, he blinks, and he burns up inside. Koslov's numbness – he develops a taste for dark chocolate, so dull are his senses – is beautifully echoed in the minimalism of Wilkinson's staging. As Thusitha Jayasundera flicks between characters – photographers, relatives, psychiatrists, victims – other people come to seem indistinct. Every woman in the world looks like his wife.
Wilkinson's play might be a metaphor for Russia as a whole: a nation that loses its family and, with that, its entire sense of self. Koslov bides his time, boiling with resentments, until his power and status restores itself, then puts on a show of strength. It's telling, for instance, that he designs an Olympic-standard ski resort in Ossetia. MacAninch's eyes return to ice blue. His smile reappears, only vicious and thin. Even when his life is restored, Koslov never lets go of his past.
However, while personifying a nation's politics makes those motives quite clear, Wilkinson risks distilling an amorphous knot of issues into a single slight. If this is a portrait of Russia, it's a simple – albeit serious – one.
My Eyes Went Dark runs at the Traverse Theatre at various times until 28 August (except 8th and 15th).