The James Plays (Edinburgh International Festival)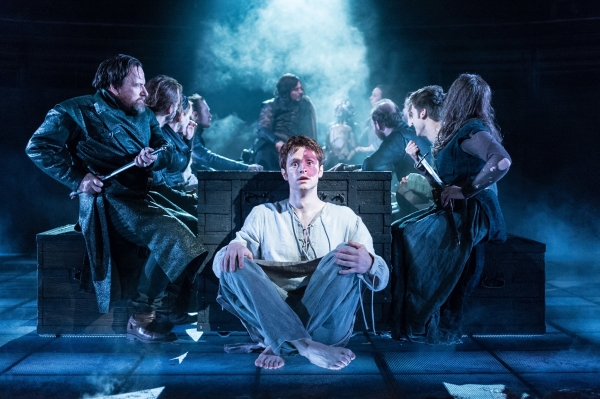 Sixty years or so of Scottish history in the middle of the 15th century covering the reigns of the first three James Stewarts – whom no-one knows anything about – may not sound like a recipe for homegrown Edinburgh Festival success.
Nor, to be fair, does it prove so for the first hour of Rona Munro's trilogy for the unexpected and ironic (in the context of the upcoming referendum) union of the National Theatre of Scotland and the National Theatre of Great Britain.
But the story takes hold, and Laurie Sansom's production on a stockaded, corrida-like set – some of the audience is seated onstage behind the acting area, which is stuck with a giant dagger; yes, that is a dagger that, like Macbeth, we see before us – proves an enthralling chronicle of struggle between royalty and nobles, fathers and sons and, above all, men and women.
When Sophie Grabol, star of The Killing, as James III's consort, Queen Margaret of Denmark, turns on the Scottish court with a cry of, "Your problem is, you've got fuck all except attitude," the house lights come up to full and the Festival Theatre rocks with laughter and applause; which sounded to me like a "Don't Know" vote next month.
In this third play, James III: The True Mirror, the medieval costumes have elided into modern, Jamie Sives' bisexual monarch has virtually abdicated political responsibility, having bartered his wife into Stirling Castle and given her a huge looking glass; their son, young Jamie, who will in time suffer the worst of all defeats against the English at Flodden, strips naked in the mirror, sees himself a martyr, kills his own father.
The idea of enslavement and liberty runs through the trilogy, from the moment we see James McArdle's impressively determined, poetry-loving James I released from his English captivity under Henry V (James Sives again) with a ransom on his head and an English bride, Stephanie Hyam's bossily domesticated Queen Joan. Their son succeeds aged ten, played by a puppet from the War Horse crew while Andrew Rothney's tongue-tied monarch stands by and grows up.
"What starts out looking like a schools drama with bagpipes thickens into a rich stew of local political skulduggery"
This second play, James II: Day of the Innocents, is a phantasmagorical recap of bloody ghosts, failed feasts, and the king's defining friendship with a Banquo-like Douglas (Mark Rowley). There's even a fairly convincing football game played out onstage. This social activity is the mark of a drama where the king goes to bed on his wedding night surrounded by nobles, stabbing your best friend is as popular a pastime as building a cathedral, and whole conferences consider the question of what is the highest form of love.
What starts out looking like a schools drama with bagpipes thickens into a rich stew of local political skulduggery, with songs and poems of the period, John Bausor's set of ramps, drawbridge and throne room lit (by Philip Gladwell) like a giant blue and white Saltire, kilts and tweeds moving into modern fashion.
By the time this complicatedly technical show moves south to the National next month – see, they come running when they need us! – it should have found its true and focussed voice. This is a fine company of actors, all three kings outstanding, Sophie Grabol enchanting, and big ballsy performances from Blythe Duff as Queen Isabella and Sarah Higgins as Meg, the Scottish Lady who eases Queen Joan's entrance into the curious ways and habits of the tribal Hibernians.
The James Plays run in rep at the Festival Theatre until 22 August
FOR MORE ON EDINBURGH 2014 VISIT WHATSONSTAGE.COM/EDINBURGH-FESTIVAL