David Greig: I want the Lyceum to be a democratic, public space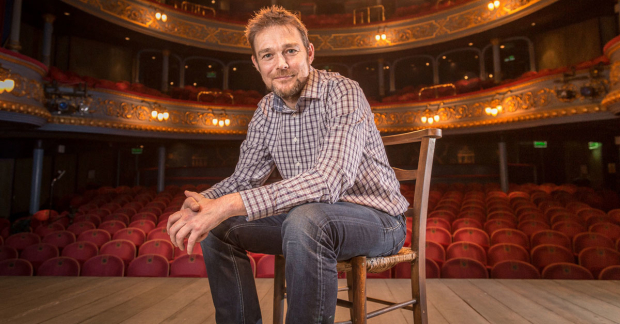 When I talk to David Greig in late July, he says he feels a little like a football manager. "I have announced my team line-up and I've done a lot of press conferences about the centre forward and how not to underestimate small countries," says the new artistic director of Edinburgh's Lyceum, "But I haven't played my first match."
Football and theatre aren't the happiest of bedfellows, but even if you don't know your Mourinho from your Allardyce, you could probably work out what Greig is on about. Having been appointed boss in September – taking over from Mark Thompson – he announced his first season in May this year. August is the month he's been waiting for, when Wind Resistance – the first show in that season – opened as part of the Edinburgh International Festival.
It was worth the wait. Critics applauded Karine Polwart's piece about nature, love and a very specific bit of Scottish moorland as "delicately-wrought" and "beautiful". It heralds a season that is brilliantly juicy. Rich and varied, the season offers brand new commissions such as Wind Resistance and The Suppliant Women – which will be adapted by Greig, Ramin Gray and John Browne – as well as revivals of plays such as Jumpy, Hay Fever and A Number. They aren't just any revivals, however: "It's not about Noel Coward, per se, although I love Coward," Greig explains. "It's about Noel Coward being directed by Dominic Hill. I love the play Jumpy but I think Jumpy in Scotland directed by Cora [Bissett] will be really exciting."
"When so much of our interaction is mediated by screens, these times demand a human, public space"
The Lyceum is Greig's first artistic directorship and, he says, as a writer, he's hoping to bring a slightly different angle to the role. He's also not planning to direct a huge amount: "I may not actually direct a play every season. It was certainly not an assumption," he explains "I want the Lyceum to be a place where directors get opportunities. And I'm much happier being part of the team that shape [a piece] dramaturgically." But he's also open to the idea that he may end up directing more ("I may get addicted to it") and is clearly excited about his Lyceum directorial debut Glory on Earth in May next year.
He will certainly be busy up until then, however, especially with The Suppliant Women arriving in October. The piece, by Euripides, is one of the oldest plays that still exists and was born in the heart of a democratic revolution in Athens. Greig's version will have a 50-strong chorus – 50 local people taking part who will be the suppliant women. "I'm a bit obsessed with the Brecht quote – 'theatre is a transformative art but the people it transforms the most are the people who make it,'" he says.
The Suppliant Women is also reflective of something of the intentions behind his first season. "A big theme of the season was the sense of the Lyceum and theatre generally as a public, democratic space," he says, "When so much of our interaction is mediated by screens, these times demand a human, public space."
It's clear Greig has big plans for the Lyceum, but even before he had stepped through the door he faced the dreaded phrase "funding cuts". Last year the theatre was told that £700,000 would be cut from funding from Creative Scotland and the City of Edinburgh Council. It was a cut that Greig knew about when he started, but that hasn't made it any easier.
"I can't pretend that there's anything good about the funding cut"
"When you have a building that's a producing theatre you have a set of fixed costs that are extremely difficult to change," he says. "I can't pretend that there's anything good about the cut. We are going into a new funding round and all I can hope is that we're able to persuade the funding bodies that they need to support us in producing theatre of the highest quality in Scotland."
This month, though, it will be all about the Fringe. Greig is a regular name and face at the festival and he has been particularly impressed with the International Festival's music line up: "It's been astonishing". But each year he does the same thing, and this year will be no different: "I like to go through the Fringe programme and find a couple of plays that I've always wanted to see, ideally done by a student company or a small company, somewhere buried in a venue in Morningside.
"If you don't find yourself in a small venue where you're one of only six people in an audience you've not really done Edinburgh properly. Those are sometimes the most memorable and thrilling moments."
Wind Resistance runs at the Lyceum Theatre at 8pm until 21 August. The Suppliant Women runs at the Lyceum from 1 to 15 October.