Review: The Marriage of Figaro (Hackney Empire and tour)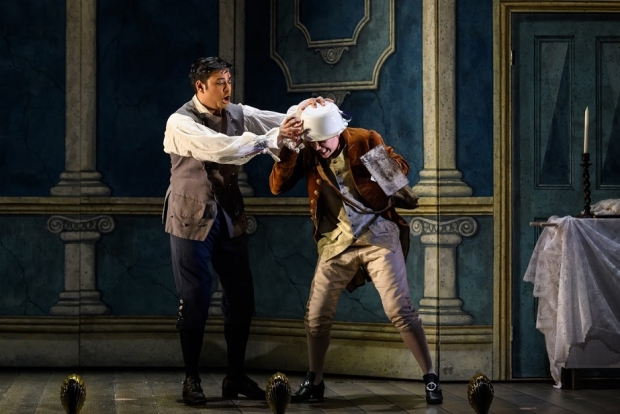 It's ironic, since her production has nothing to say about Mozart's opera, that director Blanche McIntyre declines to let the overture speak for itself. Instead – in a trope from a dozen other second-rate stagings – the director of this Marriage of Figaro fills its four perfect minutes with faux-bonhomie. Company members backslap each other in greeting, a headphoned stagehand trundles on a costume rack and Snapchat selfies are the order of the day until the 17th century kicks in. It's arch and empty and it made my heart sink.
I almost missed the music amid McIntyre's twaddle, but it was the opening gambit in what proved, happily, to be a satisfyingly zingy reading of the score by conductor Christopher Stark. I might wish he'd shaded it more delicately and phrased it more elegantly, but it sang brightly from first to last and a sharp ETO Orchestra responded to him with panache.
The singers, too, most of them, made this Figaro one to catch on its mammoth 29-date, 21-venue tour. On one level the cast is a celebration of diversity, on the other it's a gathering of the great and good. Ross Ramgobin was a storming Figaro, his sly grin as infectious as his warm baritone while he dominated the stage with the force of his personality. Rachel Redmond sang Susanna, his bride-to-be, and she too was a constant visual and vocal delight, nowhere more so than in 'Sull'aria', her exquisite duet with Nadine Benjamin's poised, vocally enticing Countess Almaviva.
'Beautifully delineated portrayal'
Katherine Aitken, who has undergone a severe schoolboy haircut for the occasion, imbued the randy Cherubino with an overdose of adolescent hormones as (s)he tried it on with anything in a skirt and sang radiantly in the process, while her fellow mezzo Gaynor Keeble was the pick of the comprimarios with a forthright, beautifully delineated portrayal of Marcellina, the housekeeper with a secret.
Sad, then, that all this talent was stranded onstage with nothing to cling to but a costume. Yes, there were highlights like Ramgobin's ability to maintain a smooth vocal line in 'Non più andrai' while doing press-ups, but I felt for the fine baritone Dawid Kimberg, a tall man made taller by a tall wig, who was left to flounder alone centre-stage on more than on occasion. Yet how thoughtfully he sang Count Almaviva even when deprived of purposeful direction.
We have grown accustomed to productions of The Marriage of Figaro that explore the mores and class distinctions behind the shenanigans in Beaumarchais' source play. This one floats over the surface of all that, and does so with desperately elementary stagecraft. Set designs by Neil Irish, a flat-pack travel kit in shades of Wedgwood blue, are eye-catching and functional, but their potential for housing courtly domestic politics is scarcely explored. McIntyre glosses over the libretto's textual subtleties (in Jeremy Sams's excellent if familiar translation Susanna declares "We think we are free but we're always in chains" while the Countess complains that her husband "has forced me to conspire with servants"). She is content just to get the thing on stage.
Perhaps for some audiences that will be enough. The revelation of Figaro's parentage delighted a number of spectators at ETO's Hackney opening night, many of them plainly enjoying Mozart's masterpiece for the first time, and the production's musical calibre is set to give immense pleasure as it criss-crosses the land. For the good of your ears, go.
The Marriage of Figaro plays at Hackney Empire on 3 March, then tours to Truro, Poole, Chester, Buxton, Guildford, Snape, Cambridge, Cheltenham, Canterbury, Norwich, Bromley, Sheffield, Durham, Perth, Exeter, Leicester, York, Stoke-on-Trent, Ulverston and Blackpool until 9 June.