Pelléas et Mélisande (English Touring Opera – tour)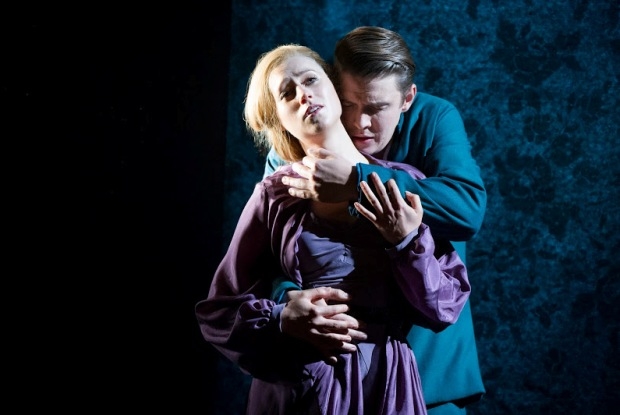 It's safe to say that director
James Conway
has the measure of
Pelléas et Mélisande
. Whether audiences do too has been the question ever since the opera's premiere more than a century ago, but they'll never have a better chance of falling in love with Debussy's elusive masterpiece than in this forthright new production.
Maurice Maeterlinck's tale of a mysterious girl who marries an older man but gives her heart to his brother is refracted through a prism of isolation and unreality that's the godfather of Bergman's films and Beckett's plays. Yet its theme is love, and the opera's passion and soul are buried only inches below the surface. It's the singers' task to tease them out.
English Touring Opera has cast its production cannily, and in one case brilliantly. Jonathan McGovern is an unforgettable Pelléas: he sings with lyrical passion and an attractive timbre that retains its evenness across the role's wide dynamic range. Those high baritone leaps hold no terrors for him. More significantly, I've never before seen the fourth-act love scene played with such ecstasy.
He's partnered in the title roles by an exciting soprano with a growing reputation, and she's on comparably eloquent form. Susanna Hurrell captures Mélisande's corporeal semi-absence and somehow manages to suggest that the character exists only within her own subconscious.
The Golaud of German bass-baritone Stephan Loges, racked by inner tensions and plainly terrified of growing old, is the production's most rounded and fascinating portrayal. Buttoned up in a formal suit and riding boots (whereas even old King Arkel wears an open-necked shirt and bomber jacket), Loges' Golaud cannot comprehend the freedom that others feel in their emotional lives, so he rages against them.
Michael Druiett is a kindly Arkel, albeit perhaps a little too fresh with Mélisande (his comment on her loveliness — "on a tant besoin de beauté aux côtés de la mort" — arises from nothing more Yewtree than his reluctance to grow old), while Helen Johnson (Geneviève) and Lauren Zolezzi (Yniold) both give delicately perceptive performances.
'Pellucid orchestra'
ETO is using a chamber reduction by contemporary Belgian composer Annelies Van Parys. She has pared the score down both horizontally — to a pellucid orchestra of 13 players — and, more controversially, vertically, with the excision of two entire scenes. The latter is a puzzling choice: it jump-cuts the gentle narrative and, as a subtext, implies that Debussy needed an editor. (He didn't.) There are numerous incidental trimmings along the way, too, not least the dropping of the Shepherd, the Doctor and the chorus. Still, as Conway's staging criss-crosses the nation I imagine the company will be quietly pleased to bring their show in at 150 minutes, interval included.
The young conductor Jonathan Berman shapes the score poetically and his players bring out the redolence of Debussy's own chamber music in Van Parys's edition, even though virtuoso precision is at a premium.
Modest in scale it may be, but this is no back-of-a-van production. Oliver Townsend's set, austere yet mysterious with its painted scrims and hidden spaces, is beautifully attuned to what we hear, while Mark Howland's subtle lighting guides the eye and Zakk Hein's discreet video projections shimmer like a fleeting dream.
There's only one howler, but it's cost the production its fourth star: an overturned filing cabinet from our own world, much used in fatuous ways, is a wart on the opera's timeless face. Of course it's a symbol; the director's programme note tells us as much. But to what end? You've got me.
ETO's Pelléas et Mélisande plays again at the Britten Theatre (in the Royal College of Music) on Saturday 3 October, then tours to Buxton, Malvern, Harrogate, Cambridge, Bath, Snape and Exeter until 20 November.