Don Giovanni (Hackney Empire and tour)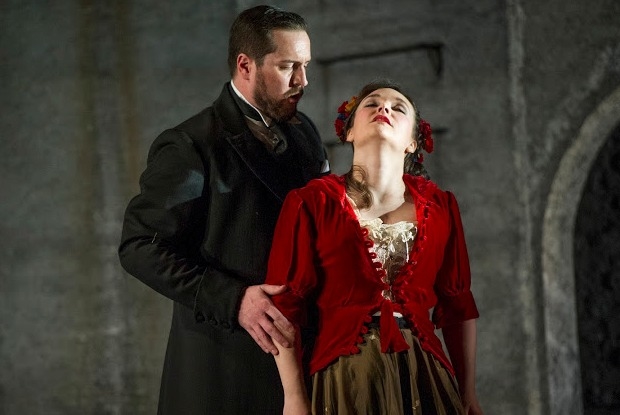 Once more unto the director's graveyard, dear friends, and this time I urge you to follow me. Of course,
Don Giovanni
is only a burial ground for those who build their own mausoleums, follies adorned in recent efforts with dreariness (
Francesca Zambello
), ugliness (
Rufus Norris
), contemporary chic (
Daniel Slater
) and gizmo-porn (
Kasper Holten
).
Lloyd Wood, who two years ago directed a tight revival of Jonathan Kent's Glyndebourne staging, dances on the graves of his distinguished colleagues with this richly mounted new production for English Touring Opera. It is immensely satisfying. Beyond setting Mozart's opera in subterranean Vienna, c.1900, an idea that creates a suitably threatening environment without ever dislocating the drama, Wood imposes no charades upon it. Instead he trusts the work's greatness to shine through and only intervenes for sound dramaturgical reasons.
Anna Fleischle's catacomb set is one of the company's most ambitious to date, tall and imposing with a sturdy metal staircase that soars to the flies. Four tunnels converge on the stage like pipes into a cistern, and at any one time Guy Hoare's artful lighting conceals as much as it reveals. During the overture, which ETO's music director Michael Rosewell shapes with a gripping élan that never once slackens thereafter, the eye is drawn first here, then there, but never everywhere at once. So it continues for the entire evening, fittingly in an opera where secrets mean power.
'From feckless to reckless'
The last time I saw George von Bergen he was rutting like a stag in Jonathan Dove's Flight for Opera Holland Park. Now here he is again in priapic mode as a plausibly dissolute Don. Clad urbanely in black and armed with a darker, less lyrical voice than one is used to in this role, he embodies the heartless aristocrat with his seamy sense of entitlement. Matthew Stiff is a charismatic Leporello, sweeter on the ear than his master and somehow retaining our sympathy as his own behaviour lurches from feckless to reckless.
Soprano Ania Jeruc, who gives the impression she'd rather be singing in Italian, lends Donna Elvira some creamy mezzo tones, while Susanna Fairbairn as Donna Anna proved herself a worthy, confident understudy for the indisposed Gilliam Ramm.
The sweetest and perhaps most Mozartean singing of all comes from Bradley Travis and Lucy Hall as Masetto and Zerlina. Youthful, carnal and unreliable, they make a fascinating pair. You'll be glad they're getting married but you won't give much for their chances.
Robyn Lyn Evans is a fine Don Ottavio: although he's deprived in this production of one great tenor aria, "Dalla sua pace", he delivers the other, "Il mio tesoro", with honeyed fervour. As for Piotr Lempa's vocally insinuating Commendatore, he emerges from his own memorial shrine like a vision from hell. Which of course he is.
Search for flaws if you must, but they are few and far between. Personally I'm not enamoured with Jeremy Sams's vulgar translation (his work on The Marriage of Figaro was better gauged to its material), but if ETO must go for the vernacular rather than Da Ponte's gloriously sardonic original then it'll do. Anyway, such things are a matter of taste, and it's my only gripe about a night at the opera that gets practically everything right.
Don Giovanni tours to Truro, Poole, Norwich, Sheffield, Snape, Cheltenham, Buxton, Cambridge, Crawley, Canterbury, Wolverhampton, Blackpool, Durham, Perth, Exeter, Leicester, York, Stoke-on-Trent, Ulverston and Carlisle until 10 June 2016. Click here for further information.