West Side Story (Tour – The Mayflower, Southampton)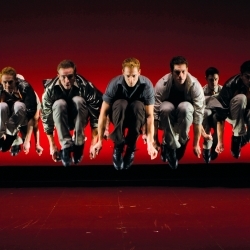 After a sell-out season at London`s Sadler's Wells, West Side Story comes to the Mayflower on tour. Transporting Shakespeare's tale of Romeo and Juliet from Verona to 1950s New York 'west side' the show follows the doomed trajectory of love, for Tony and Maria, as their rival families – the Jets and the Sharks – clash over power and territory.
The dynamic, bright cast is headed by Louis Marshall, (Tony) who has appeared on the national tour of Scrooge the Musical, and is directed and choreographed by Joey McKneely – using the full, original choreography by Jerome Robbins.
Maria – superbly portrayed by Charlotte Baptie this evening, whose theatre credits include: Princess Ida (Gilbert & Sullivan Theatre Company) Midsummer Night`s Dream (Blackheath Halls) and The Pirates Of Penzance – thrills the audience with the crystal clarity of her amazing voice.
Her brother Bernado (Javier Cid) gives an exciting performance and shows off his English National Ballet training to perfection. Sinead Kenny makes a believable, feisty Anita tonight and brings energy and experience from 9 to 5 The Musical (UK Tour) and the English Youth Ballet`s Coppelia.
Jack Wilcox – most recently seen in Singin' In The Rain in London's West end – takes on the character of Riff – Tony`s best friend and co-founder of the Jets.
Based on Shakespeare`s Romeo and Juliet and a conception by Jerome Robbins the production is blessed with Leonard Bernstein's wonderful music. Much loved songs, including 'Maria', 'Tonight', 'Somewhere' and 'I feel Pretty' – to name but a few. This gloriously fresh, thrilling production keeps our eyes glued to the drama on stage all evening.
Although Baptie`s wonderful voice often overshadows that of Maskell, their stand-out duet of Somewhere, has even the most hard hearted close to tears.
With Donald Chan`s musical conduction and Paul Gallis set design, this is a winner of a show and definitely unmissable.
– Vera Newsham