Review: The Price (Theatre Royal Bath)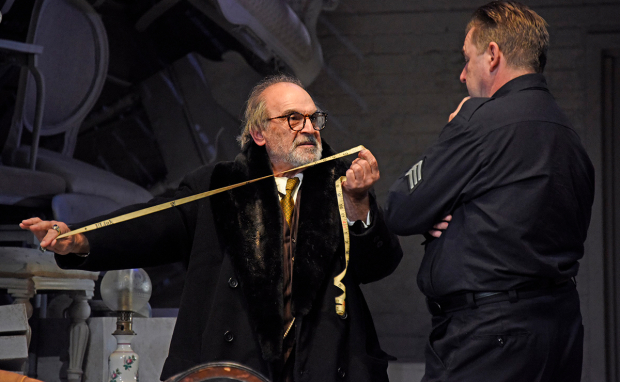 The theatre is by and large a cyclical profession. So, a year after Broadway saw Arthur Miller's The Price, a mid-career, middling work starring Mark Ruffalo and Danny DeVito, Jonathan Church now presents it in the Bath main house as part of their summer season. It may not be peak Miller, the writer of All My Sons and The Crucible feels slightly more muted here, as though he can't quite compose the scorching highs in a work so naturalistic and personal. But it still delves into the usual preoccupations Miller writes of; guilt, resentment, families tearing themselves apart and of the search for success, and its cost, in a heavily materialistic world.
Beat cop Victor Franz waits in his father's old apartment for a dealer who will offer a price for all the old furniture and antiques. Victor was a once-promising scientist, who dropped out of college to look after his father after the Great Depression and is now after 25 years contemplating what's next as retirement looms large. He is resentful of his older brother Walter, the lesser student but one who stayed in college and has built a life as a successful surgeon. Over the course of an afternoon, played out in real time, secrets are revealed, grievances aired and the price all these characters faced becomes clear.
In many ways, The Price came to be Miller's most heavily autobiographical work. Like the Franz family, his comfortable upbringing was shattered by the Depression, forcing his family to move and young Arthur to work menial jobs to support his college education. The certainties of the old world shifted in 1929 and man had to choose a path. Miller may have swum against the tide, but many with promise sank, a situation, you feel, Miller was acutely aware of. In a parallel world, he wouldn't have been the great American man of letters, but the everyman wondering what might have been. Victor and his wife Esther may be financially struggling with his NYPD pension, but brother Walter has paid his own price, turning cold against a world he doesn't trust and a society he doesn't believe in and losing his family as result.
Staring out front and centre in all the publicity material is David Suchet, as antique dealer Gregory Solomon. It is, in truth, a supporting role, but one portrayed by Suchet with such star power and twinkly-eyed authority that it comes to feel like his play, the energy certainly sags when he spends most of act two off the stage. Solomon is the American dream made flesh, a Lithuanian Jew who immigrated to America, made his fortune, lost it and then made it again and is still chasing the right price in his late 80s. It's a gift of a role, one that has attracted actors of the calibre of Eli Wallach and DeVito Stateside and one that fits Suchet skillset like a glove.
It's to the credit of the rest of the cast, in Church's meticulously acted production, that they aren't left in his taillights. Brendan Coyle as Victor has a thorough everyman decency mixed with a bottled anger that he has used to such effect as Mr Bates in Downton Abbey, while Sara Stewart as his wife and Adrian Lukis as his brother give equally telling performances in various forms of disappointment.
Simon Higglett's set doesn't just accrue a lifetime of 'junk' but sends it skewering above the actor's heads as though the past is threatening to swallow them all whole. The Price may not be Miller at his very best, but even the average Miller is always worth spending an evening with.